Be sure to check out the fine merchants of the Village of Serenity Wood

Artisan Experience LLC:
Demo: Stone Masonry

Blissfully Stiched:
Adult and childrens clothes, corsets, wings, hair accessories

Body Eclectic Skin Care:
Soaps, deodorant, beard-scalp oil, body lotions

The Cubscouts - Wellpet Pack 108:
Popcorn for the Boy Scouts

Brethren Armory:
Swords, weapons, Armor

Candy's Creations 4U:
Steampunk jewelry, hats, wizard staffs

Caveloot.com:
Larp weapons: foam weapons, armor, accessories, dice, counter rings, belt pouches, frogs

Chibi Dreams:
DIY Fairy, mermaid & Pirate bottles, wood/resin boxes, resin charms, bracelets

The Crafty Hatter:
Hats and feather masks, shoes

Double Take Productions LLC:
Medieval & fantasy armor, jewelry, costume accessories, leather dice bags, & supplies

Fantasy Art by Puppetina:
Hand made puppets, wizards, journals

Binat Al Raq's Wares:
Belly Dancing Accesories

Haire's Magical Wears:
Ear cuffs, drinking horns, crochet jackets, pouches, bottle holders, macromai bottles

Hedwig's Corner:
Mortar & pestles, incense, sarongs

Hopeless Romantics Ent. Inc (Just in Tyme Boots):
Leather boots, leather gloves, leather hats, laces, socks, conchos

Kemmer Woodworks:
Wood cutting boards and other hand-made exotic wood items

The Knotted Cloak:
Handsewn/embellished/embroidered cloaks in brocade, sateen, velveteen, Egyptian cotton

Lady Sophies:
Clothing, capes, pirate shirts

Maumee River Leather Feat. The Illerendi Trading Company:
Leather journal, jewelry, pouches, crowns, hair slides, masks

MacDudley Dragon Games:
Games, t-shirts, cd's

Mick Art Productins:
Journcal of the outlaw books, dungeon kits

Old Timers Things:
Wooden toys

Outside The Lines:
Face Painting

Neisha's Dream Castles:
Castle, Faerie house, hobbit style banks

Pugling Hoard:
Steampunk jewelry, hats, fairy items

The Red Dragon:
Sterling silver & pewter jewlery, and celtic gifts

Steven's Single Handed Jewelry:
Jewelry, earrings, bracelets, bookmarks, hair clips

Theatricks:
Beautiful garb & accessories

White Knight Arms:
Weapons, pewter jewelery

Wicked Wench Productions:
Hats, jewelry, flags, dragons, crocheted items, misc

Wicked Winglings:
Hand sculpted dragons, dragon eggs, keychains, necklaces

Food and Drink! Holy Smokes BBQ Company:
Brisket, pulled pork, corn, hot dogs, hamburgers, ribs, turkey legs, brats, chicken The Ram and Poni:
Elk burger, Buffalo burger, Roast Beef Sandwich, Scotch Egg, Elk Chili, Drunken Mushrooms, Chips, Giant Pickles, Ice Cream, Sherbert, Orange and Root Beer Floats, and Brownies The Red Dragon:
Welsh Cookies.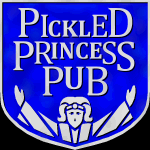 The Pickled Princess Pub:
Beer and Wine Food Tent Drink Counter:
Pepsi Products, Water, RootJack, and Steamjack